Beyond extraction, NATINOV®'s plant expertise has been demonstrated through the development of a dry extract of onion peel, with high added value, intended for animal feed:
Selection of candidate plant rich in quercetin.
Valorisation of a co-product of the agri-food processing of onions.
Optimization of the extraction yield of the active ingredients (>14% quercetin and >18% flavonoids naturally present).
Setting up the specific collection of peels with onion processors
Guaranteeing a quality French supply.
NATINOV® enhances the value of the sector
Due to the considerable production of onions, in the strictest sense the third most produced vegetable in the world, it appeared interesting to NATINOV® to seek to valorize the peels which are a by-product and a source of micronutrients.
Phytochemistry of dry extract of onion peel
La pOnion peel contains in particular two chemical families of characteristic constituents: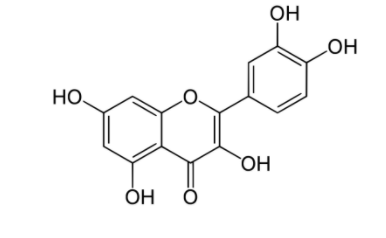 Mostly flavonoids: Glycosides of flavonols including quercetin-4'-O-glucoside, quercetin-3'-O-glucoside, quercetin-3,4'-O-diglucoside.
Sulfur derivatives including alk(en)yl cysteine sulfoxides, thiosulfinates…

Use in animal nutrition
According to several 'in vitro' tests (published studies 4, 5, 6), the various preparations of onion peel extracts with water or a water-alcohol mixture have antimicrobial properties (especially for Gram-positive bacteria) and antioxidants. Furthermore, onion peel extracts rich in flavonoids have an antithrombotic action in rodents (6).
Références :
(1) Benítez V, Mollá E, Martín-Cabrejas MA et al. (2011). Study of bioactive compound content in different onion sections. Plant Food Human Nutr, 66(1): 48-57.
(2) Ifesan BOT (2017). Chemical composition of onion peel (Allium cepa) and its ability to serve as a preservative in cooked beef, Int J Sci Res Methodol, 7(4): 25-34.
(3) Kim WJ, Lee KA, Kim KT, Chung MS, Cho S, Paik HD (2011). Antimicrobial effects of onion (Allium cepa L.) peel extracts produced via subcritical water extraction against Bacillus cereus strains as compared with ethanolic and hot water extraction. Food Sci Biotechnol, 20(4): 1101-6.
(4) Lee KA, Kim KT, Nah SY, Chung MS, Cho SW, Paik HD (2011). Antimicrobial and antioxidative effects of onion peel extracted by the subcritical water. Food Sci Biotechnol, 20(2): 543-8 (d'après résumé).
(5) Santas J, Almajano MP, Carbó R (2010). Antimicrobial and antioxidant activity of crude onion (Allium cepa L.) extracts. Int J Food Sci Technol, 45(2): 403-9.
(6) Lee SM, Moon J, Chung JH, Cha YJ, Shin MJ (2013). Effect of quercetin-rich onion peel extracts on arterial thrombosis in rats. Food Chem Toxicol, 57: 99-105.